Waterproofing Your Basement Before Finishing

Norwalk, Stamford, White Plains, Springfield, New Haven, New Rochelle
What to Do Before Remodeling Your Connecticut, New York and Massachusetts Basement
Are you finishing a wet basement? A basement waterproofer from Basement Systems, our sister company, should be consulted first. Fill out our Free Estimate form, and we'll put you in touch with your local contractor.
One of the most daunting challenges about finishing a basement is managing all of the moisture and flooding that already exists in the space. If you have a damp or wet basement, then sooner or later, whatever organic materials you store in the space are going to be ruined.
Total Basement Finishing of Connecticut can help you plan a finished basement that won't leak and will manage potential floods and humidity. Call or e-mail them today for a free, no-obligation basement design quote! They serve the Connecticut, New York and Massachusetts area, including Yonkers, Stamford, Norwalk, Danbury, New Haven, Springfield, Holyoke, Westfield, Greenwich, Mount Vernon, Trumbull, Norwich, Groton, Glastonbury, Westport, Wethersfield, Torrington and nearby Connecticut, New York and Massachusetts areas.
Even if your basement has never flooded, the threat of a flood is ever-present in a basement. Groundwater is only half of your problem since there's also the potential for plumbing failures in your home.
You can protect your finished basement, starting now. Follow these two simple steps to make sure your basement looks beautiful-- and stays that way.
Steps for Waterproofing and Finishing Your Basement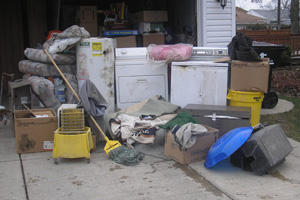 Flooded Finished Basement
The Total Basement Finishing System uses only waterproof products when we remodel your basement. However, what you put in your basement after it's finished could still be damaged..
Basement water means big problems for your finished space. Flooding and humidity will lead to mold, rot, and odors in the space, which ruins the space as a comfortable living area. Even an occasional flood can leave lingering problems, and mold can begin to grow in as little as 24-48 hours.
Step 1: Waterproof the Basement
If your basement has ever flooded, you can be sure it's going to again. And even if your basement finishing products are waterproof, not everything you put in your finished basement will be.
What you can do:
Install a full perimeter drainage system
Install a vapor barrier on your walls and floors.
Install a sump pump system with a battery backup
Fix leaking basement windows
Repair any leaking cracks
A dry basement will be ready for finishing. Otherwise, you may be building a major problem that will emerge later on down the road. Call or e-mail us today to get a free basement finishing quote!
After waterproofing your basement, it is essential to follow up with a basement dehumidifier. Choose one that's self-draining and energy efficient, and your home will be dry, odor-free, and much more comfortable.
Step 2: Use Waterproof Finishing Products
Even with a basement waterproofing system in place, your basement will easily flood if there's an issue with your plumbing. And with so much plumbing in your home, that kind of an issue is just be a matter of time.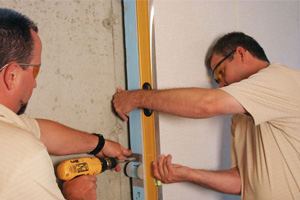 Avoid using any organic materials in your basement finishing system. Organic products are susceptible to mold and moisture damage, and they can become irreparably damaged in a flood. Materials such as fiberglass use dyes in their products are also susceptible to staining, as these dyes will seep forward and stain their cloth covering
The Total Basement Finishing System, installed by Total Basement Finishing of Connecticut in the Connecticut, New York and Massachusetts area, uses only inorganic materials in their basement finishing system. Each of their products includes a written warranty for mold and moisture damage resistance, and the walls and flooring are completely undamaged by water. Don't wait to get started on your basement finishing- call or contact us online today for a free basement finishing quote in Yonkers, Stamford, Norwalk, Springfield, New Haven, Danbury, Mount Vernon, Greenwich, Westfield, Holyoke, Groton, Norwich, Trumbull, Torrington, Glastonbury, Westport, Wethersfield and the surrounding Connecticut, New York and Massachusetts area!
Looking for a price? Get a no cost, no obligation free estimate.