Basement Finishing & Remodeling in Connecticut and Westchester County
Need to get your basement finished or remodeled? Let Larry Janesky's Connecticut Basement Systems assist you. Our basement remodeling process is easy, risk-free, and adds value to your home investment at nearly 50% the cost of building a room addition.
Our Basement Contractor Customer Pledge
You are entitled to be treated with friendliness, honesty, courtesy and respect. You will receive full value for your money and a good buy at a fair price. You are entitled to prompt, courteous, knowledgeable answers to your questions. We strive to treat you exactly as we want to be treated when we are someone else's customer. We will work hard to assure that you are proud of your investment in your home, and your satisfaction is our main concern.

Remodeling Your Basement Is Easy with Total Basement Finishing of Connecticut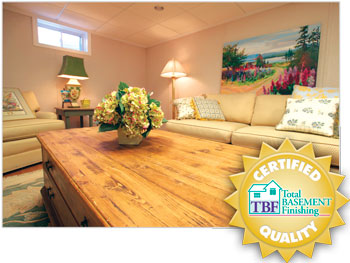 Schedule a no-obligation, free basement finishing quote and consultation. Our company representative will schedule a visit to your home and work with you to design your dream basement using a custom 3-D software program. Once the design and budget are approved by you, the homeowner, our representative will have the project proposal printed
When the homeowner signs the contract, our production inspector returns to review the plans in detail with you, working out all of the specifics, and order the materials.
An installation date is scheduled, and within the next few weeks, our technicians return to start the project installation normally takes 1-2 weeks. Larger or more custom jobs can take longer.
For more information on getting the most out of your basement call or contact Total Basement Finishing of Connecticut for a free, no-obligation consultation and estimation in Connecticut, New York and Massachusetts. We work in Stamford, Norwalk, Yonkers, New Haven, Springfield, Mount Vernon, Danbury, Westfield, Holyoke, Greenwich, Norwich, Groton, Torrington, Trumbull, Westport, Wethersfield, Glastonbury and nearby. Just contact us!