Complete Energy Efficient Basement Window System Installed In Stamford, Norwalk, Yonkers, New Haven, Springfield, New Rochelle
Maximize The Comfort And Savings Of Your Basement With Our Insulated Windows In Connecticut, New York and Massachusetts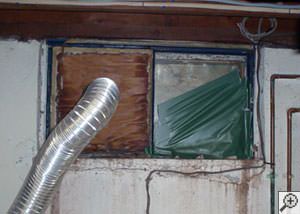 Why Upgrade Your Windows?
New basement windows will look better in your basement, create a more comfortable space, and save you a bundle on your energy bills.
Throughout the home, windows are one of the weakest points in terms of the building's overall energy efficiency. When compared to the walls they're built into, windows are thinner, lighter, and nowhere near as effective in maintaining your conditioned space.
However, windows are unique in their ability to bring natural light into your home, while showcasing the beauty of the great outdoors. With basement windows, this is especially true -- they make the space feel less like a dungeon and more like part of your home.
Beautiful, Efficient Basement Windows
At Total Basement Finishing of Connecticut, we make it a priority to ensure that your basement windows are as bright, long-lasting, and energy efficient as they can be.
Our basement windows, window wells, and window envelopes are designed to maximize available light, protect your windows from outside influences, and save you as much money as possible on your home's utility bills.
Get a FREE Quote!
Schedule A FREE Estimate
Our experts at Total Basement Finishing of Connecticut like to show you how we can save you money by upgrading your existing basement windows. Each of our free, quotes come with no obligation, and includes a professional on-site inspection, a customized cost quote, and a complimentary copy of our 88-page full-color basement book!
To learn more, contact us today for a free basement window upgrade quote! Our service area includes Norwalk, Stamford, White Plains, Danbury, New Haven, Springfield, Holyoke, Westfield, Greenwich, Mount Vernon, Trumbull, Norwich, Groton, Glastonbury, Westport, Wethersfield, Torrington as well as other areas in CT, NY, and MA.
Upgrading Your Old Basement Windows
If you have old, ugly, drafty basement windows, and your window wells are rusty, rotted, or corroded, they're not doing the job they were installed to do. Instead, they're bringing cold air and humidity into your home, while also leaving a potential opening for termites, ants, and other pests to enter.
At Total Basement Finishing of Connecticut, we recommend the following three steps for upgrading those old windows: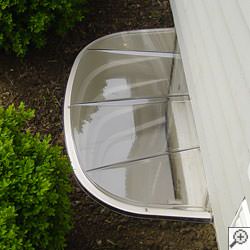 Upgrade Your Basement Window Wells
In cold climates, winter winds will beat against your basement windows, rapidly pulling heat away from your home. The cold wind can lead to serious energy losses, especially if you have single-paned steel windows.
By installing a basement window well with a clear plastic cover, you can hold back those cold winds, protecting your windows and saving you energy.
Covered window wells will also keep rain, snow, and debris out of your window wells. This has the added benefit of preventing leaking through the basement windows.
---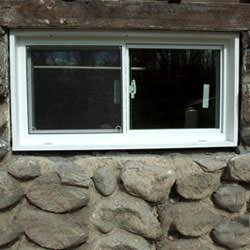 Install New Energy Efficient Windows
Old-fashioned basement windows are often single-paned with metal frames.
Brand new, metal-framed windows will typically have an R-1 rating, which means that 50% of the heat that reaches them stays in, while the other half goes right out the window. As the window frame rusts, the window's energy rating will drop significantly.
Installing double-paned vinyl basement windows can significantly reduce the amount of energy that is lost through these windows. If those windows also use energy efficient Low-E glass, you'll save even more.
---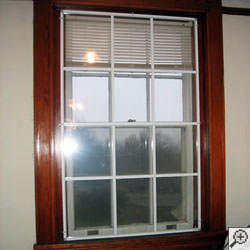 Install Basement Window Envelopes
One simple thing you can do to significantly improve the quality of your basement windows is to install a basement window envelope on the interior side.
Basement window envelopes are a secondary window paneling system that's designed to insulate your windows on the inside by use of a trapped air space in front of your existing panes.
They install easily, and they're an effective solution for drafty windows and single-paned windows that are energy efficient but pose no cosmetic problem.
Learn About Our Advanced Energy Panels
We Install Long-Lasting, Energy Efficient Basement Window Systems!
Replacing your old, outdated basement windows with new, energy efficient ones is a great way to add comfort, value, and energy efficiency to your home. When the time comes to make the upgrade, Total Basement Finishing of Connecticut has the long-lasting, beautiful solution you need.
Call or e-mail us today for a free basement window upgrade quote! Our quotes come with no obligation and include an on-site inspection and measurement, as well as our 88-page full-color waterproofing book.
We proudly serve the Connecticut, New York, and Massachusetts area, including Norwalk, Stamford, White Plains, New Haven, Springfield, Mount Vernon, Danbury, Westfield, Holyoke, Greenwich, Norwich, Groton, Torrington, Trumbull, Westport, Wethersfield, Glastonbury and many areas nearby.
Looking for a price? Get a no cost, no obligation free estimate.